Traditional transactional applications have run their course. The pressure to reduce margins, technical debt, and investment in core systems creates tremendous incentives for the autonomous enterprise. Customers seek cognitive-based approaches to build the right foundation for automation and artificial intelligence-driven precision decisions, thereby driving long term economic value.
In this webinar, R "Ray" Wang, Principal Analyst and Founder of Constellation Research and Frederic Laluyaux, President and CEO of Aera Technology, will discuss the following:
Impact of AI in the future of work

What is Cognitive Automation and why is it relevant both in the time of crisis and in time of peace?

How to drive strategic agility in enterprise decisions?

The economic value of decision automation and augmentation

Best practices for getting started with Cognitive Automation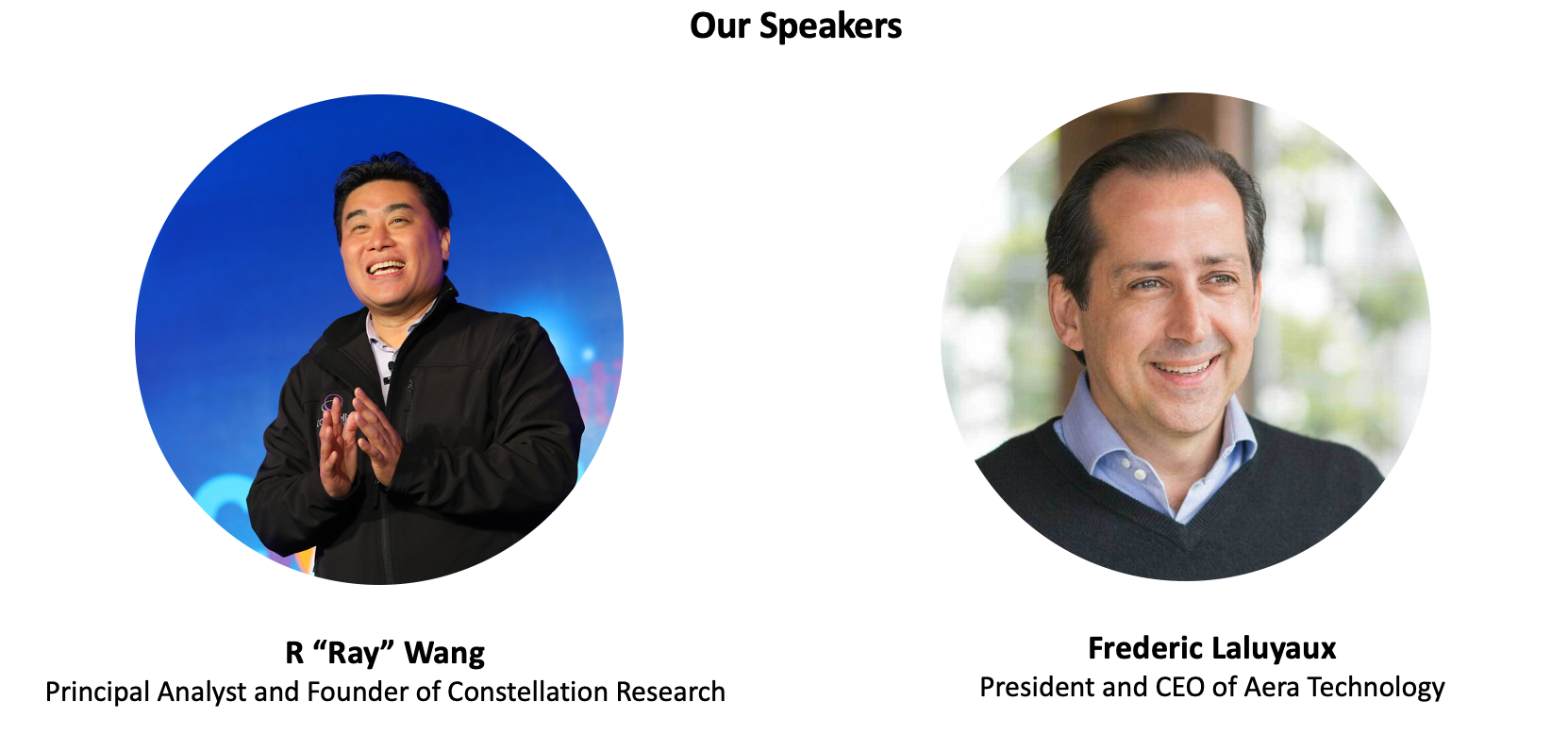 R "Ray" Wang is the author of the best-selling book Disrupting Digital Business, published by Harvard Business Review Press. He is the Principal Analyst, Founder, and Chairman of Silicon Valley based Constellation Research, Inc. and the Co-Host of the web show DisrupTV. His popular business strategy and technology blog "A Software Insider's Point of View" earns 10's of millions of page views a year and provides insight into how disruptive technologies and new business models such as digital transformation impact brands, enterprises, and organizations. Ray is a prominent and dynamic keynote speaker and has held executive roles in product, marketing, strategy, and consulting at companies such as Forrester Research, Oracle, PeopleSoft, Deloitte, Ernst & Young, and Johns Hopkins Hospital.
Frederic Laluyaux - An entrepreneur at heart, Fred founded his first company at the age of 23. Prior to launching Aera, Fred was the CEO of Anaplan, which he grew from 20 to 650 employees, and a $1B+ valuation. Before that, he held several executive positions at SAP, Business Objects and ALG software.